He recently reached a significant milestone by scoring against the 100th club of his illustrious career. In a thrilling match, Inter Miami secured a resounding 4-0 victory over Atlanta United, allowing them to advance to the playoffs of the League Cup. This tournament brings together teams from both the Mexican and North American championships, with a record number of 47 clubs participating this year.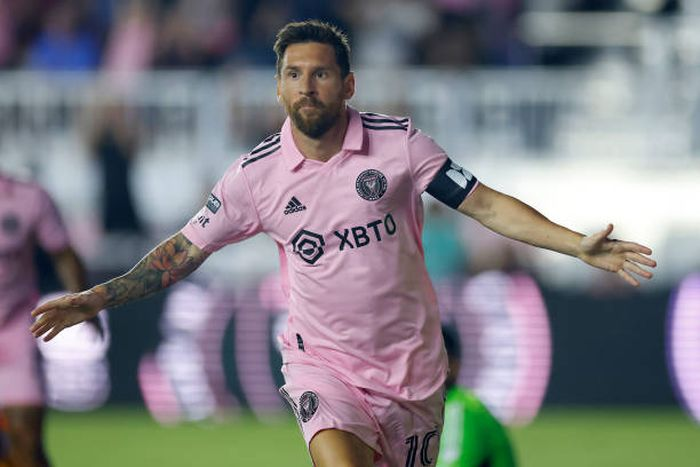 Messi's timing couldn't be better, as the MLS is currently on break, providing him with the opportunity to shine in the League Cup matches. He made his debut a few days ago against Mexican side Cruz Azul, sealing a last-minute victory with a crucial penalty kick. In the recent match against Atlanta, where he was appointed captain, Messi demonstrated his impact on Inter Miami's confidence, boosting the team's spirit. His teammates thoroughly enjoy playing alongside the football legend, which is noticeable in their improved performances on the field.
Having recently triumphed in both the America's Cup and the World Cup, Messi's ability to rally the team has grown significantly, making him a formidable captain, especially for a team considered an underdog in the league with less experienced goalkeepers. The game between Inter Miami and Atlanta attracted a larger audience than the NBA Finals series, a testament to Messi's star power and immense popularity. Even well-known basketball player Nikola Jokic failed to generate as much interest as Messi, who now enjoys the adoration of fans donning his iconic pink Barbie jersey.
In Miami, Messi relishes the opportunity to lead a more relaxed lifestyle. He can go to the supermarket with his family, soak up the sun on the beautiful beaches, and still enjoy his passion for football. Inter Miami's slow start to the regular season has been given a significant boost with Messi's arrival, thanks to mentor Gerardo Martino, who was invited at Messi's request. Martino's presence promises to shape an exciting and competitive team in Miami.
Martino relies on Messi's goal-scoring prowess and values the contributions of midfielder Busquets, who is a crucial asset to Inter Miami. Sergio's immediate impact on the team has transformed their style of play. To further enhance their squad, there are talks of Suarez potentially joining, with Beckham securing a slot for the striker from the club in San Jose.
Additionally, negotiations are underway with Gremio to release a forward, and there's also speculation about a potential signing of free agent Iniesta. The new squad featuring Messi, Busquets, and Alba has earned the nickname "Catalan gang" and is affectionately called the "Barcelona of Miami."
Overall, Messi's arrival in America has caused a stir in the football community, bringing fans excitement and joy and elevating the league's standard of play. His contributions have undoubtedly transformed Inter Miami into a formidable force, and with the prospect of other talented players potentially joining the squad, the future looks bright for the "Barcelona of Miami."