With the confirmation of Pochettino joining Chelsea, the hunt for the world's best free agents begins, marking the start of the summer transfer season. The fate of next season's national leagues and European competitions rests on the choices made by these clubs.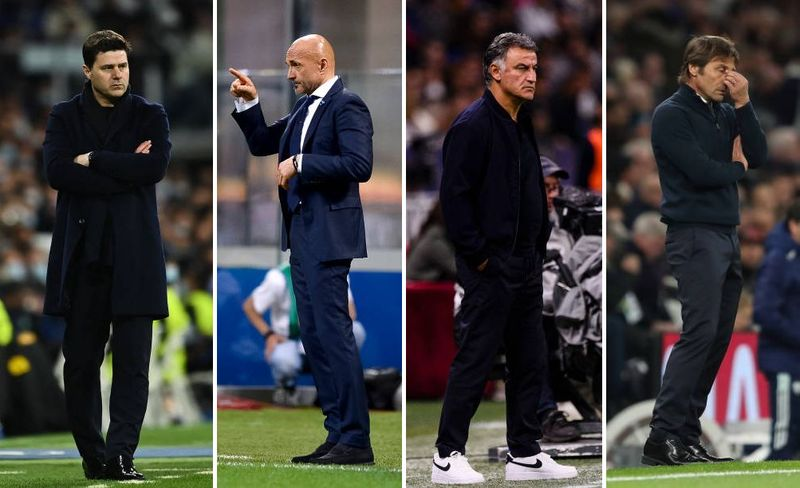 Napoli
Luciano has decided to take a year off for personal reasons. It's understandable, as squeezing more out of Napoli seems impossible, especially if key players like Victor Osimhen and Khvicha Kvaratskhelia leave the team. Spalletti departs with his head held high, sporting tattoos of his children's names on his right arm and the Scudetto and Napoli emblem on his left. It should be noted that Spalletti is 64 years old and has dedicated decades to his career, earning a well-deserved rest as a champion.
De Laurentiis is attempting to entice Luis Enrique with a lucrative offer, and it presents an intriguing experiment since Napoli has been known for their particular style of play since the days of Mazzarri. At the same time, the Spaniard brings a different approach to the game. The connection between them, especially in the Champions League, remains to be seen.
Tottenham
For the first time in 14 years, Spurs find themselves without a European league spot. It is a significant blow to the club, considering that Levy had been spending more than the club was earning, resorting to loans. They will likely have to bid farewell to Kane to compensate for the drop in revenue.
However, the more pressing issue lies in finding the right coach. Arne Slot from Feyenoord and Julian Nagelsmann have already withdrawn from the race, recognizing the challenges ahead. Tottenham still possesses a capable squad, but the competition in the English Premier League is fierce, making it easier to drop out of the top four than to regain a spot. Their neighbours in North London are well aware of this fact.
PSG
It's amusing that Christophe Galtier dares to speak of extending his tenure with PSG. The numerous incidents surrounding the club, from Mbappe's political statements to the uncertainty surrounding Messi's future, reveal the hypocritical nature of Paris. Their fans have become sceptical due to the defeat against Bayern in the Champions League and the quality of their football. While PSG currently leads domestically, it has been marred by numerous scandals. Their chances of a solid next season rely heavily on Mbappe's hesitance to move to the English Premier League or La Liga, but only if the club selects the right coach.
Ajax
After 14 consecutive years of reaching the Champions League with their first team, Ajax's streak has been broken. While they didn't always make it to the group stage, their absence this time has dealt a blow to the club. This setback may prompt talented players like Kudus to seek opportunities elsewhere. However, Ajax still has a chance to bounce back quickly, as their Dutch rivals PSV and Feyenoord are not as formidable. The Eredivisie is trying to claim France's place in the top 5 UEFA rankings, and it's no surprise given their recent performances.
Borussia Dortmund
Terzic, a lifelong Borussia Dortmund fan, was a scout and assistant coach in the club's academy. Although he returned as the interim head coach, Borussia failed to realize its full potential under his leadership. With an exciting squad led by Haaland last season and Bellingham this season, they suffered senseless defeats, including the league title game against Mainz without Erling.
At present, Borussia Dortmund lacks the best managerial options. Salihamidžić, recently dismissed from Bayern Munich, loved the club but proved inexperienced and irritable as a manager. The same can be said for Terzic. He doesn't possess the coolness to become the new Klopp, and Borussia cannot afford to give away titles to their rivals, as they did last weekend.
Juventus
It is not out of the realm of possibility for Inzaghi to leave Inter, regardless of the outcome of the Champions League final. Simone's relationship with the club's Chinese owner has been strained, and reaching the final in Istanbul has allowed him to dream of an invitation from Juventus. However, such a move may be seen as a step backwards. Regardless, the management at Juventus has reason to consider replacing Allegri with another expert, such as a possible return of Conte.
Agnelli may complain about biased officials and disagree with the punishment, which saw them docked ten points in the table, but their on-field performance has been lacking. A strong squad failed to reach the Europa League final and faltered in the Champions League group stage, finding themselves in the playoffs against Inter. Juventus has also suffered several significant defeats in Serie A, including a recent loss against AC Milan. Allegri's form has been poor, and the once-dominant champions need fresh coaching ideas for a renewed push in a season without a major European trophy.