The upcoming transfers bring excitement and speculation to the football world, with Real Madrid's president, Florentino Perez, looking to strengthen the team. Meanwhile, Barcelona's past actions and Tottenham's co-owner have fueled rumours of potential moves. Let's delve into the latest developments.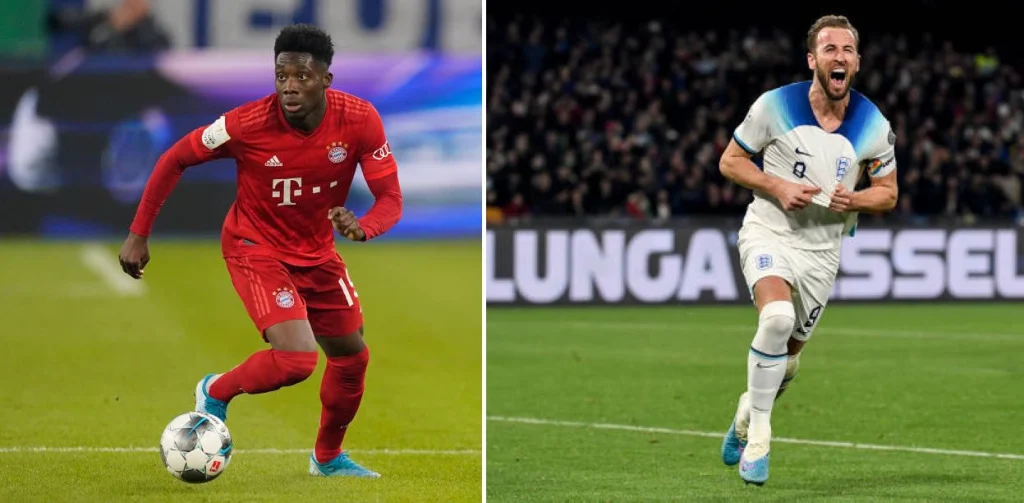 Alfonso Davies: Real Madrid's Left-Back Target
Real Madrid's interest in talented left-back Alfonso Davies has caught attention. The Canadian international, who currently plays for Bayern Munich, was subject to insulting remarks from former Barcelona president Josep Bartomeu in 2019. Despite Bartomeu's questionable behaviour, Davies has succeeded in Europe, winning the Champions League and excelling in the Bundesliga.
Perez sees Davies as the perfect replacement for Marcelo on the left wing and is reportedly considering a transfer. The 22-year-old's desire to move to Barcelona in the past may open the door for a potential switch to Real Madrid, much to the delight of Eduardo Camavinga, who won't have to fill in on the left side of defence anymore.
Harry Kane: Striker Option for Real Madrid
Another intriguing transfer rumour involves Harry Kane, the Tottenham striker. There have been longstanding tensions between Kane and Tottenham's co-owner, Daniel Levy. Despite Kane's loyalty and exceptional performances for the club, Levy's actions have raised eyebrows.
Kane, who has expressed interest in joining Real Madrid, could be an ideal centre-forward for the team after the departure of Karim Benzema. While alternatives like Erling Haaland exist, the Norwegian prodigy seems bound to stay at Manchester City. Victor Osimhen is another option, but his style of play might not be the best fit for Real Madrid.
Kane's work ethic and ability to assist his teammates make him deserving of a team that consistently competes for trophies. However, Levy's reluctance to negotiate a transfer fee below €116 million has given Perez pause. With Kane approaching 30 years old and spending his entire career in the Premier League, Perez must carefully consider his options. Despite not having the same champion mentality as Benzema, Kane's impact cannot be overlooked. Whether Real Madrid will pursue other strikers or explore a reshuffle under new coach Carlo Ancelotti remains to be seen.
Other Potential Transfer Targets and Considerations
Florentino Perez has publicly stated that Real Madrid will not sign Kylian Mbappe this summer. However, the Frenchman remains a target for the future, likely not to play alongside Antoine Griezmann at Atletico Madrid. Mbappe's versatility and blistering speed make him a valuable asset, although his long-term position may not be as a centre-forward.
Meanwhile, Lautaro Martinez's ability to play as a lone striker is less effective than when he partners with a player like Edin Dzeko at Inter Milan. While Martinez has achieved decent results at the club level, questions remain about his suitability for the demands of Real Madrid.
When considering potential replacements for Benzema, such as Martinez or Osimhen, evaluating their compatibility with Real Madrid's playing style is essential. Not every player fits seamlessly into the team's system. Eden Hazard is an example, as his move to Real Madrid has been marred by injuries and a failure to replicate his previous form. Rumours of Hazard's lacklustre training habits have also circulated, affecting his pitch performances. While Martinez and Osimhen possess promising talent, Perez must carefully weigh his options due to financial constraints.
In other news, the Bellingham brothers recently met with Zinedine Zidane, leading to speculation about Jude Bellingham potentially inheriting Zidane's iconic number 5 jersey. The young English midfielder has the potential to thrive in Real Madrid's attacking style. With Luka Modric set to remain for another season and Casemiro, Tchouameni, and Camavinga in the midfield mix, finding the right balance between experienced players and rising talents will be crucial.
Decisions and the Team's Direction
Ancelotti's decisions and Real Madrid's search for a new head coach in 2024 will further shape the team's direction. Real Madrid aims to address their pressing transfer needs, with Davies and potential options like Hakimi on their radar. The club's aspirations to secure Mbappe's services remain a long-term goal, focusing on integrating him alongside Vinicius and Kane in the future. The summer promises to be an intriguing period for Real Madrid as they aim to strengthen their squad and maintain their status among Europe's elite.