The Arabian championships have traditionally taken a backseat to the more competitive and prestigious European championships. However, Saudi Arabian clubs have recently made significant strides in luring top international players to their league. This summer, a number of European stars have made their way to Saudi Arabia, and this trend is expected to continue.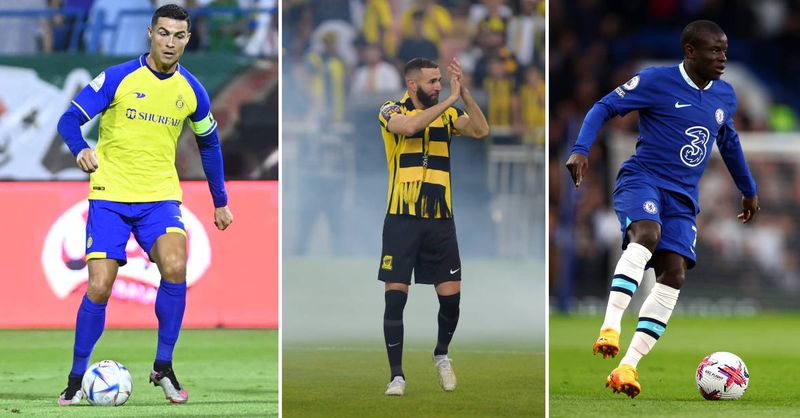 Cristiano Ronaldo's Move to Al Nasr
The Ballon d'Or winner, Cristiano Ronaldo, was going through a challenging phase in his career at Manchester United. He faced criticism for the team's struggles and even publicly voiced his dissatisfaction with the new head coach. Eventually, it became clear that Ronaldo's time at Manchester United was coming to an end. While he initially sought to continue his career in Europe, no suitable offers materialized. Consequently, Ronaldo made the surprising decision to join Al Nasr in Saudi Arabia, a club known for its financial prowess.
Impact of Ronaldo's Arrival
Ronaldo's move to the Saudi Arabian championship was a significant turning point. It signalled that top players of his generation, including his rival Lionel Messi, could consider playing in Saudi Arabia. The league's reputation received a boost as a result. Ronaldo enjoyed a successful stint, scoring 14 goals in 16 league matches and helping Al Nasr finish in third place.
Karim Benzema and N'Golo Kante Join Al Ittihad
In another high-profile transfer, Karim Benzema, the reigning Ballon d'Or winner and long-term Real Madrid star, made his way to Saudi Arabia. Benzema signed with Al Ittihad, along with Chelsea's influential midfielder, N'Golo Kante, who was a key player in France's 2018 World Cup victory. These signings further solidify the Saudi Arabian League's growing reputation as an attractive destination for renowned players.
A Breakthrough Year for Saudi Arabian Football
The acquisition of three internationally renowned players with impressive track records is a significant breakthrough for a relatively modest Championship side. This move will likely attract more players in the twilight of their careers to consider Saudi Arabia a viable option. Furthermore, Saudi Arabian clubs are not resting on their laurels, as there are ongoing negotiations for several other high-profile transfers.
Elevating the League's Image
This year has proven to be a breakthrough year for Saudi Arabian football. The league has increasingly set its sights on top footballers, albeit those at an age-appropriate for the final years of their playing careers. As more well-known players make their way to Saudi Arabia, the league's overall image is significantly enhanced, garnering attention and interest from football fans around the world.
The Saudi Arabian Football League has emerged as an enticing destination for European stars seeking a new challenge or a fresh start. The league's reputation continues to grow, with Cristiano Ronaldo, Karim Benzema, and N'Golo Kante already making high-profile moves. This trend is expected to continue as more players recognize the opportunities and financial rewards available in Saudi Arabia. The Saudi Arabian league is poised to become an even more prominent player in the global football landscape.