Lionel Messi's decision to join a new club in the United States was driven by the well-being of his family. While his relatives had differing opinions regarding the choice, the final decision was made collectively, with even Messi's children eagerly anticipating the move to another country. Let's take a closer look at the family members who have always supported the world champion in every aspect of his life.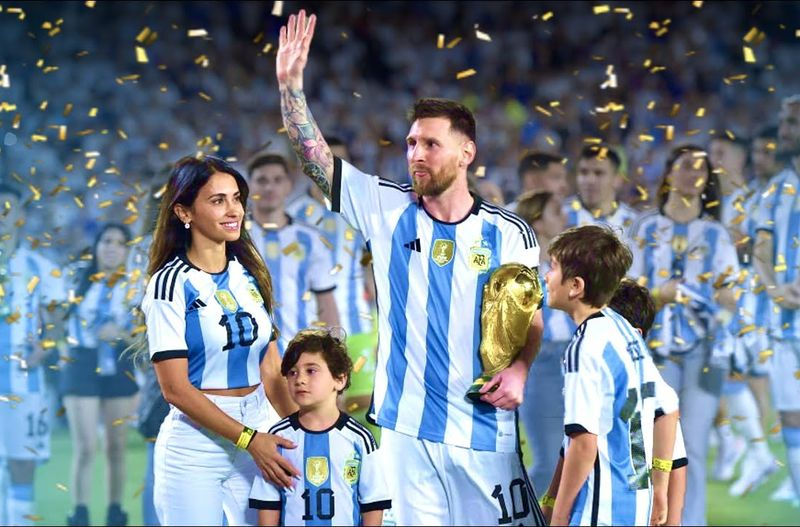 Wife and Kids: A Love Story
Messi's love story with his wife, Antonella Rocuzzo, began in their childhood days, and it was love at first sight for the young couple. They experienced a period of separation when Messi moved to Spain to play for Barcelona, but their connection remained strong. A tragic event brought them back together when Messi rushed to console Antonella after the loss of a close friend.
Since then, their love has grown, resulting in the birth of their three sons: Tiago, Mateo, and Ciro. After a decade-long relationship, Messi and Antonella finally tied the knot in 2017. Antonella, known for her modesty and unwavering support, played a pivotal role in influencing the decision to move to the USA. In Miami, the couple has their own luxurious apartment, allowing them to enjoy the peaceful family life that Messi desires.
Parents: The Foundation of Support
Lionel Messi was born into a modest family in Rosario, Argentina. His father, Jorge Horacio Messi, worked in a steel factory, while his mother, Celia Maria Cuccittini, took on part-time cleaning jobs. Despite their humble means, they stayed together as a family.
Lionel's grandmother, Celia, was the driving force behind his football aspirations, taking him to training sessions and encouraging his talent. Sadly, she never witnessed her grandson's ultimate success. Still, Messi continues to dedicate his goals to her memory.
Jorge Horacio has been Lionel's dedicated representative and financial advisor throughout his career. Messi's mother prefers to stay out of the spotlight, focusing on managing the household and helping raise her grandchildren. Both parents take immense pride in supporting their son, whether attending matches or watching from home.
While Messi's father and himself were initially inclined towards a move to Saudi Arabia, Antonella's desire to avoid relocating to the Middle East with their three children played a significant role in the decision to choose the US.
Brothers and Sister: A Close-Knit Support System
Messi has two older brothers, Rodrigo and Matias, as well as a younger sister named Maria Sol. Both brothers actively contribute to Messi's career, with Rodrigo overseeing his daily schedule and handling media interactions, while Matias manages his charitable organization.
Meanwhile, his sister, Maria Sol, is involved in the fashion industry, designing clothes and promoting swimwear on her social media platforms. Messi also has two cousins, Emanuele and Maximiliano Biancucci, who share his passion for football. With a tight-knit family living in close proximity, Messi receives unwavering support from his relatives, regardless of where he plays.
For Lionel Messi, the family has always been a driving force in his life and career. The decision to choose the US as his next footballing destination reflects his desire for peace of mind and the happiness of his loved ones. Messi is ready to embrace a new chapter in his football journey across the Atlantic with their support behind him.